Appendix B
I can produce a performance video to help market and promote yourself or your band. The video can be shot in a live performance setting, recording studio or almost anywhere you'd like. I can record with up to five video cameras, 3 Sony F3's,  1 Arri Alexa and 1 Sony EX1R. I can also provide the lighting for a small to medium size stage as a supplement or main source.
There are several ways to capture the audio which range from serviceable to cd quality. The mic on the camera can capture the audio or a better mic, such as the ones listed in Appendix A, can be run into the camera with longer cables and be placed in front of the sound system. For more accuracy and options my RME UFX analog device and preamps can be brought in increasing the ability to record with up to 15 mics. The RME records the audio to individual tracks that can be uploaded into a Pro Tools session and mixed and mastered in the exact same way as if you were to come to the studio. I marry the audio and video in post-production to make you look and sound terrific. The alternatives to capturing the audio described above are to splice into the houses sound board or split their mic lines.
My responsibility to you is bring your ideas, vision and dreams to fruition so input from you regarding the style and mood is necessary and welcome before shooting and in post-production. If you've seen performance videos you want to emulate bring it in for a reference and I'll try to match it. Timing the cuts and maneuvering the pans and zooms in Premiere Pro  to the mood and energy of the song will surely elicit an emotional response from the viewer that will hopefully be memorable and engaging.
List of Equipment
| | |
| --- | --- |
| 3 Sony PMW F3 Cameras | |
| 1 Arri Alexa Studio Camera | |
| 1 PMW EX1R Camera | |
| 2 Sony z18x140mm lens | |
| 1 Red 18-50 mm Lens | |
| 1 Arri 32mm Master Prime lens | |
| 1 Sony PL 1.5 11-16mm Wide Angle Lens | |
| 3 Gemini 444 Recorders | |
| 3 Atomos Ninja 2 Recorders | |
| 3 Oconnor Fluid Heads | |
| 16 Core, 64 Gigs of Ram, 48 Terabyte Video Editing Computer | |
| Premiere Pro Editing Software | |
| Lowel, Sampson and Mole Richarson  Lights | |
| Cinema Craft SP-30 Encoder | |
| | |
Description of the Cameras, Lenses and Equipment
Sony PMW F3 with S-Log;
I have three of these extraordinary cameras which were designed by Sony to target Indie and documentary film makers or be used as a very worthy B camera for motion pictures. They have a super 35mm single CMOS Sensor, 23.6×13.3mm, which is close to motion picture format. The big sensor produces low noise and stunning images.
Shooting in S-Log (logarithmic) is a way of recording the image to minimize the terrible artifacts of clipping highlights and crushing shadows that are a sure sign your film was shot on a video camera. It is fantastic when you have to shoot scenes that have high contrast and is quite remarkable in low light. It seriously increases dynamic range.
It's interesting to know video cameras like the Arri Alexa, Red Epic and Sony F65 are exceeding the image quality of film and taking over as the choice for making major motion pictures.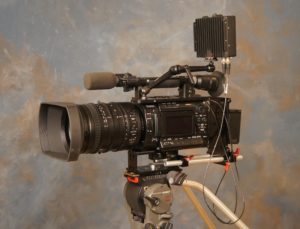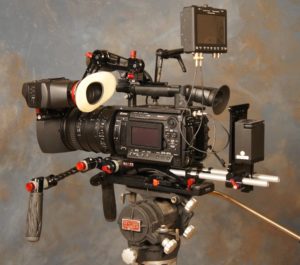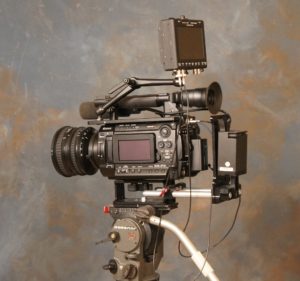 Gemini 444;                                                                                                                                                 Video cameras can record the image to a medium inside the camera such as SxS cards or to an external recorder such as the Gemini 444, which uses SSD cards to records 10 bit uncompressed images. The problem wasn't video cameras couldn't produce an image of high resolution; the technological breakthrough was getting a device to capture so much information fast enough. The internal capturing device of the Sony F3 captures 420 Chroma sampling vs the Gemini at 444 which is considered the platinum standard for color because each pixel has a Y, Cb and Cr. Capturing at this resolution results in into an hour of video taking up one terabyte of hard drive space; this produces an image with deep rich colors and sharp contrasts.
Lenses;
I have two Sony SCL-Z18x140's with a staggering 18-252 focal length with full auto to full manual controls designed specifically for the F3 camera and for ENG (Electronic News Gathering) work. The camera-lens combo gives you a lot of zoom and a lot of capability and is very mobile with a very good steady shot.
I have 1 Sony SCL-P11x15 wide angle lens that handily captures tight interiors that may be useful if the performance video is shot in a studio instead of a large venue. This is a gorgeous lens that provides stunning images and can be used for effect in any venue small or big.
I have 1 Red 18x50mm zoom lens that provides great depth of field, sharp focus and nice contrast. At 18mm I can get a nice wide shot and at 50mm can tighten it up without getting too close.
I have 1 Arri 32 mm Master Prime lens known for its sharp image and see in the dark 1.3 f stop.
Other Cameras;
I have three Sony cameras with the 3-chip Exmore sensor with a fixed Fujinon 14x lens which are good in low light and produce a great image. Like the F3's I use an external recorder to bring up the color sampling from 420 to 422. For filming a performance video the 3 Sony F3's might be plenty but these could be set up for room, crowd or a close up shots depending on the venue.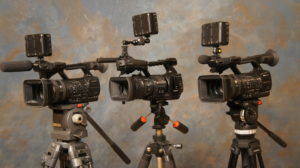 Tripods and Heads;
I have 3 Oconnor fluid heads the Sony F3 cameras sit on. These heads are considered industry standard for the US film and digital cinema and are considered legendary for their absolute frictionless fluid feel that allows you to perform the subtlest of moves with no hesitation or stickiness at the start of the move or while changing direction. You've seen these in action when you watch an American made movie. The carbon or aluminum tripod bases are easily adjustable with the Manfretto 161MK2b tripod going up to a nose bleed height of 9′ for interesting angles or to get over the heads of crowd of people.
The 6 Lowel lights and the 2 Sampson spots are adequate for lighting a small venue. All of the Lowel's can be equipped with snoots and turned into spots. All can be outfitted with colored gels and all are hooked up to dimmers. Nothing is worse than too much or spread out lighting for this type of production.